What's

the biggest leap forward
in the guitar gear world

in the last 30 years?
SO, THERE IT IS...
SIMPLE, VISUAL, APP-BASED CONTROL
FOR
TRUE ANALOG

GUITAR TONE.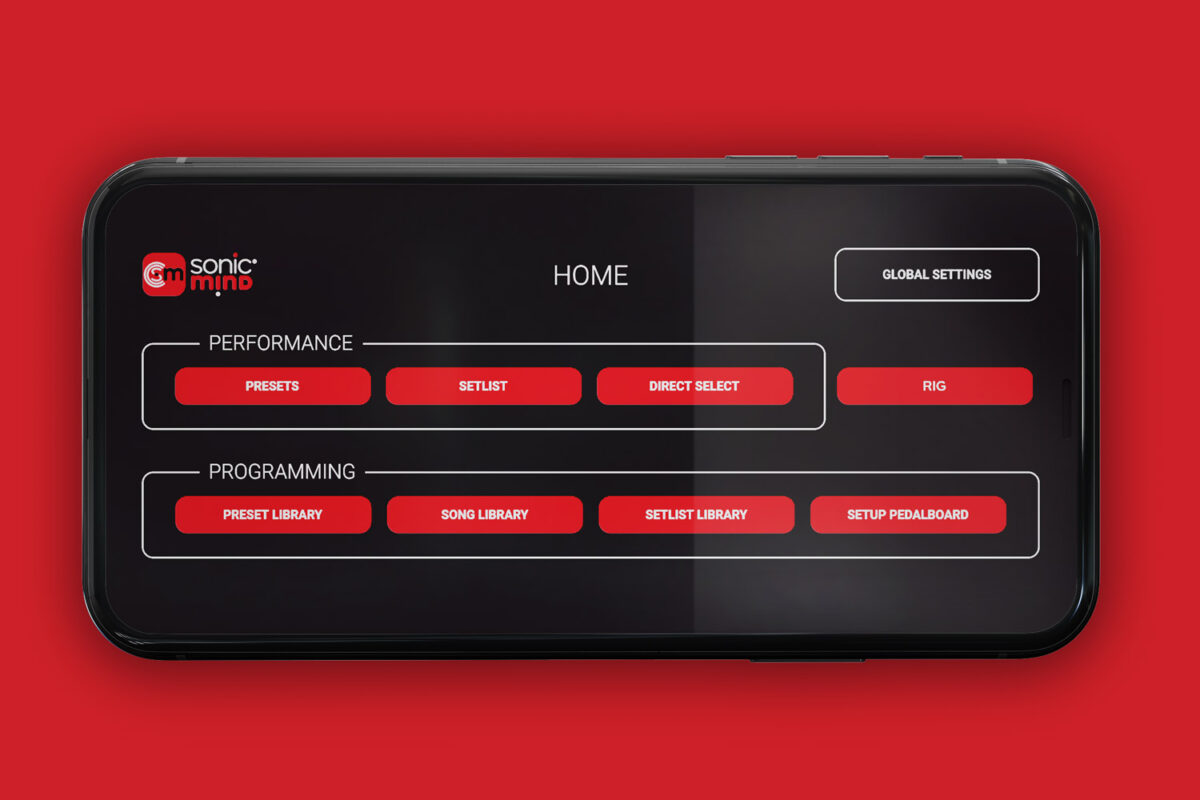 THE CONCEPT IS GAME-CHANGING
REMOTE CONTROL OF ANALOG PEDALS, AMPS AND SWITCHERS.
HOW? YOU ASK!
Well, the gear manufacturers themselves build SonicMind technology into their gear.
Their gear can then communicate with all other SonicMind gear you have connected.
WE DESIGNED THE PLATFORM SO THAT

ANY

GEAR FROM

ANY


MANUFACTURER CAN BE SONICMIND CAPABLE!
We made the whole thing work wirelessly - not like standard wifi, though, it's all done
over radio frequency - heavy-duty, interference-free and lighting fast! Sure, it also
uses to Bluetooth®, but only to communicate with the SonicMind app on your mobile device.
MOST IMPORTANTLY, THERE'S
NO DEGRADATION OF ANALOG SOUND
- THE TONE IS NEVER DIGITIZED.
Pedal Controller arrangement
Pedal Commander arrangement
WHATEVER YOU WANT!
WE'RE CHANGING THE STATUS QUO…
SO F**KIN EASY!
We've made the app as simple as possible. No commands, no scripts, less hassle! You basically set the tones you want on your gear and when it sounds right, just name it and save it. Then do it for the next tone, then the next - with as many pedals as you like, whatever amp settings work for that. Then use them whenever and however you want.
UNLIMITED PRESETS
Because you will now be able to use every tone and setting available on your pedal, amp or switcher at any time, we've designed the platform so that there are no limits on the number of presets, songs and set lists you can store.
Perfect tone for every part of the song
Its not just that you can use any tone for any part of any song… it has to be perfect tone. That's why we designed the system to respect your 100% analog tone. SonicMind never digitizes your precious tone path - old school analog tone, just controlled in the digital age.
Adaptable to any on-stage situation
You might want to scroll through a set-list with one footswitch, you might want to bank up and down for songs, you might want to play freestyle and allocate one tone per footswitch and bank more tones. However you want to use SonicMind, we have performance modes for you. This is your music - do it your way!
How about MIDI?
We built full MIDI support in – and even made programming easier!
WHEN? WHEN? WHEN?
DON'T WORRY, THIS ISN'T SOME "UNDER DEVELOPMENT" CONCEPT… IT'S REAL AND IT'S WORKING!
We're already working with several gear manufacturers to bring you SonicMind technology in their gear and ensure you can boost your creativity sooner rather than later. Before long, there'll be whole selection of brands to choose from!
SONICMIND IS THE FUTURE OF GUITAR GEAR
ANY GEAR CAN HAVE IT
SO ALL SHOULD!

WHICH GUITAR OR BASS GEAR SHOULD BE
SONICMIND ENHANCED?


THIS IS
THE FUTURE OF GUITAR GEAR